Event
Trinity of Terror Tour: Ice Nine Kills / Motionless In White / Black Veil Brides
Location:

1202 E 38th St, Indianapolis, IN 46205

Venue:

Blue Ribbon Pavilion - Indiana State Fairgrounds

Length:

06:30 pm
Trinity of Terror Tour: Ice Nine Kills / Motionless In White / Black Veil Brides w/ Special Guests at The Pavilion at Pan Am
About this event
DOORS: 5:30 PM, SHOW: 6:30 PM
AGE RESTRICTIONS: ALL AGES
GENERAL ADMISSION, LIMITED SEATING
Important Notice: All tickets are nonrefundable and nontransferable with the exception of event cancellation. Support acts are subject to change.
——————–
TRIPLE CO-HEADLINING BILL – SET ORDER:
Doors 5:30 PM
Special Guests 6:30 PM
Black Veil Brides 7:30 PM
Motionless In White 8:50 PM
Ice Nine Kills 10:10 PM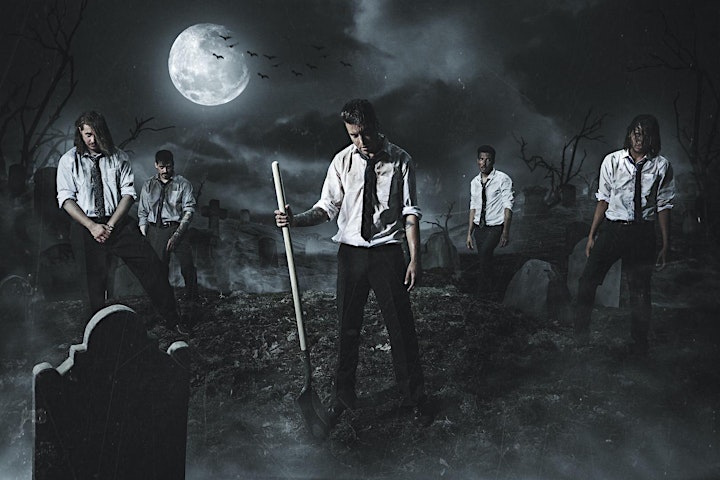 About Ice Nine Kills:
Like the undead slashers celebrated in their songs, ICE NINE KILLS return with The Silver Scream 2: Welcome to Horrorwood, a sequel of gruesome movie-sized proportion to their No. 1 Billboard Hard Rock Album, The Silver Scream. Welcome to Horrorwood carves out a fresh, bloody homage to the VHS celluloid classics that possessed singer Spencer Charnas at an early age, with a devilish new twist.
ICE NINE KILLS make music both timeless and timely, mixing metal, hardcore, and punk, with accessible power. New hard-rock-and-horror anthems like "Hip to be Scared," "Assault & Batteries," "Take Your Pick," and "Farewell II Flesh" demonstrate Spencer's fascination with fright, pop culture obsession, and his expertise with inescapably wicked melodic hooks and clever twists of phrase.
Drew Fulk (A Day To Remember, As I Lay Dying, Emmure) produced The Silver Scream and returned for Welcome to Horrorwood. Album guests include Jacoby Shaddix (Papa Roach), George "Corpsegrinder" Fisher (Cannibal Corpse), Brandon Saller (Atreyu), Ryan Kirby (Fit For A King), and Buddy Nielsen (Senses Fail). The album mixes the melodies, riffs, and wit that are the band's signature, as heard in the Top 10 Mainstream Rock single "A Grave Mistake" and Top 20 hit "Savages."
Dan Sugarman (guitar/vocals), Ricky Armellino (guitar/vocals), Patrick Galante (drums), and Joe Occhuiti (bass/vocals) are the current co-conspirators behind Charnas, who founded the band as a teen in the early 2000s. Decadent, devious, and fiercely insane, ICE NINE KILLS celebrate pop culture's darkest edges, mining a cinephile library's worth of iconic horror on The Silver Scream and The Silver Scream 2. The creative marriage made in hell of music and fiction began in earnest with the Top 5 Hard Rock album, Every Trick in the Book, which brought the previous three records' themes to new levels.
Loudwire hails ICE NINE KILLS as "one of the most unique acts in metal right now." The band's synergy of music and lifestyle draws favorable comparisons to Slipknot and Rob Zombie. Visionary trailblazers and multimedia raconteurs, INK built a thrilling world for a growing legion of devoted true believers, with theatrical shows, high-concept videos, and inventive band-to-fan communion.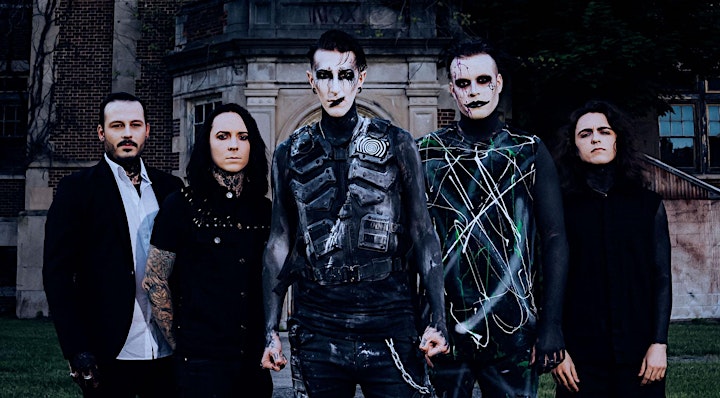 About Motionless In White:
In 2006, Motionless In White materialized out of Scranton, PA with an inimitable conjuration of sharp metallic rock, nocturnal industrial, magnetic melodies, and larger-than-life visual imagery. The quintet—Chris Motionless [Vocals], Ricky Olson [Guitar], Ryan Sitkowski [guitar], Vinny Mauro [drums], and Justin Morrow [bass]—quietly clawed their way to the forefront of hard rock, gathering nearly half-a-billion cumulative streams and views to date. Following the success of Creatures [2010] and Infamous [2012], Reincarnate [2014] sunk its teeth into the Top 10 of the Billboard Top 200, bowing at #9 and capturing #1 on the Top Rock Albums Chart. Both Graveyard Shift [2017] and Disguise [2019] cracked the Top 5 of the Top Hard Rock Albums Chart and Top Rock Albums Chart. The latter yielded the band's biggest hit to date, "Another Life," which gathered 37 million Spotify streams followed by "Brand New Numb" at 24 million and "Disguise" at 17 million. Along the way, they sold out headline tours and supported everyone from Slipknot and Korn to Breaking Benjamin. Not to mention, Motionless In White have collaborated with Jonathan Davis of Korn, Maria Brink of In This Moment, Dani Filth of Cradle of Filth, Tim Sköld of KMFDM, Caleb Shomo of Beartooth, and more. The five-piece kept busy throughout 2020, releasing the Another Life / Eternally Yours: Motion Picture Collection EP and Deadstreaming a performance of Creatures for its decade-anniversary. The band also dropped a cover of The Killers' "Somebody Told Me," and the standalone single "Creatures X: To The Grave." Once again, Motionless In White return to the studio and the road in 2022 as they perfect the poetically pummeling sound they patented.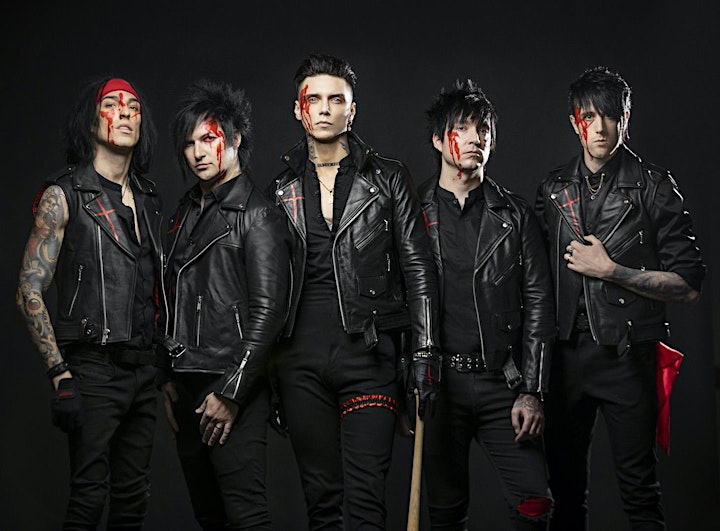 About Black Veil Brides:
Committed to uncompromising expression, with a foundation in hard rock tradition and rule-breaking iconoclasm, Black Veil Brides is a transcendent celebration of life-affirming power and anthemic catharsis. A gothic vision first summoned in a small town by an isolated kid fascinated with death, rock, theatricality, and monsters (both real and imagined), Black Veil Brides is now a postmodern heavy metal institution with a legion of like-minded fans and supporters worldwide.
A new chapter in the band's ever-evolving story arrives with The Phantom Tomorrow, an ambitious sixth album pushing the music of Black Veil Brides forward without sacrificing their beloved signature sound. Built around a thematically rich story, written by singer Andy Biersack, The Phantom Tomorrow combines imaginative worldbuilding with unrelentingly catchy and melodic bombast.
The twin-guitar attack of Jake Pitts and Jinxx cut through with sharp precision, overtop the steady pulse of powerhouse drummer Christian Coma and the fluid, rhythmic dynamics of Lonny Eagleton. Biersack's rich baritone croon and soaring passion are anchored in the biggest hooks of the band's career. Recorded in Los Angeles, with producer Erik Ron (Godsmack, Bush, Dance Gavin Dance), The Phantom Tomorrow excels as a series of standalone songs and a cohesive conceptual album.
The band's strident opposition to conformity and obstacles (from both within and without) strikes a chord with every outcast who felt drawn to the allure of the dark. It's evident in the 160 million-plus views of "Knives and Pens," an early demo committed to video before singer Andy had found his band of brothers. The RIAA-certified gold single "In the End," which itself boasts over 150 million views, is proof that the group whose merchandise dominated Hot Topic stores before they'd even dropped their debut album was no mere passing fad or ill-fated "scene." This was built to last.